Holiday apartments in Castelrotto
Residence Diamant in the holiday region Alpe di Siusi – South Tyrol
On the Alpe di Siusi, the sun and life will smile at you! Located on the southern side of the Alps, Castelrotto is blessed with beautiful weather: According to statistics, there are about 300 sunny days a year. This also affects the landscape that surrounds the village: varied and diverse, from vineyards to the pine forests, almost everything grows in our region. A natural backdrop offering adventure and relaxation, in a sunny location at the foot of the Alpe di Siusi, with views of the striking peaks of the Dolomites. Linger and indulge – welcome to Castelrotto at the Residence Diamant.
Location & Environs
At home in Castelrotto
Romantic streets, artfully carved wooden balconies, decorated by geranium flowers – this is our village of Castelrotto, traditional and friendly. As the main community of the Sciliar region in the heart of the Dolomites, daily life is flourishing in the village, the historic church square is bustling with activity, the shop windows are lovingly decorated, the village cafés and taverns are inviting. And while you sip a cappuccino admiring the mountain panorama, you will finally comprehend what the local music group "Kastelruther Spatzen" are singing about: their beautiful home in the heart of the Dolomites, the UNESCO World Heritage Site.
The central location in the traffic-free village centre of Castelrotto offers many advantages to our guests. For example, the popular Kofel Promenade starts directly at our house: It is ideal for leisurely walks in the afternoon. And there is a bakery nearby. This makes grocery shopping for your breakfast very easy!
Familiar and laidback, in the immediate vicinity of the Alpe di Siusi, where you may not only enjoy hiking, but also skiing and tobogganing – holidays made easy.
Look forward to a marvellous vacation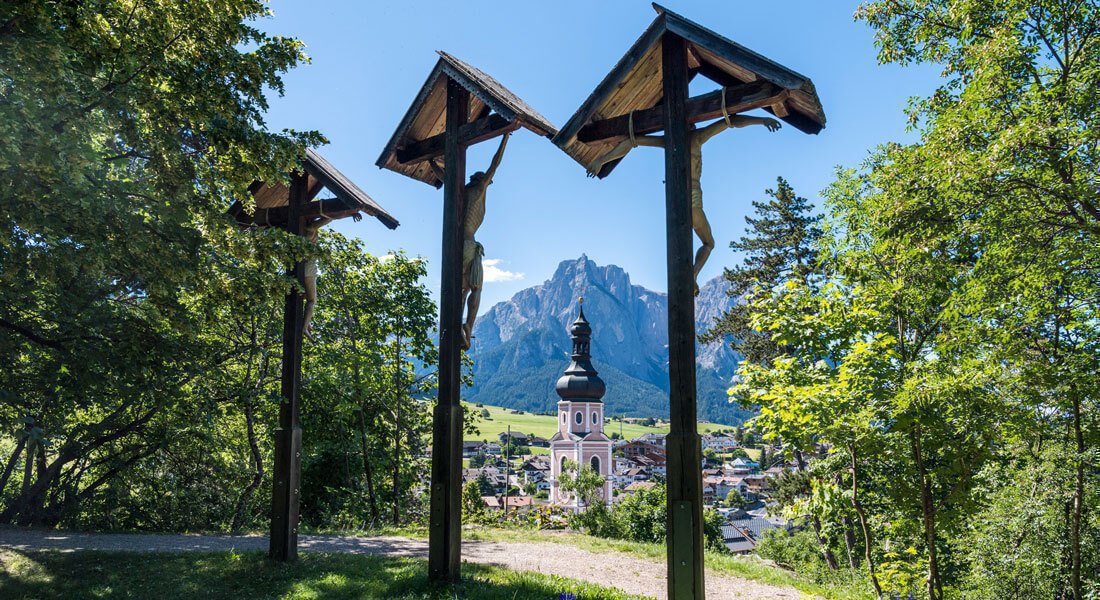 Do you fancy a leisurely stroll in clear air and with charming views of Castelrotto? Then the Kofel Trail is your ideal choice. To get you in the mood for many other hiking tours in our region, as a morning fitness walk or to admire your holiday destination from a beautiful perspective – these 1.2 km are always perfect. The easy circular trail – which is also suitable for strollers – takes about half an hour. It starts at the Castelrotto village square and leads you through beautiful deciduous and coniferous forests to idyllic panoramic points. In the download section, you may find more details about the "Kofel" and the "Kalvarienberg".
Idyllic nature at the Residence Diamant
The holiday home for sunny people in Castelrotto
Welcome to your personal wellness apartment
Comfortable living in South Tyrol
Our apartments are your best choice if you like to plan your holidays independently and individually, because here with us you are completely flexible and not bound to any time frames.
The Residence Diamant in the heart of Castelrotto / Alpe di Siusi offers everything you need to make your vacation days with family and friends in South Tyrol truly unforgettable. Comfortable accommodations, equipped with high quality furniture in Tyrolean style, filled with lots of sunshine and warmth.
All apartments feature a living room with HD TV, a fully equipped kitchen, a bedroom, a bathroom with double sink and bathtub, bidet, WC, a lighted vanity mirror and a hairdryer, as well as a balcony or terrace. Also, for a small fee, our guests may use a laundry room with dryer. Furthermore, there are an elevator and an underground car park.
You don't feel like preparing your own meals during your vacation? No problem! The Hotel Madonna **** is only 5 minutes away and offers you a 5-course menu every day.
Newsletter
Be the first to find out about news, events, and top offers
Your Residence in Castelrotto/ Alpe di Siusi
Leisure activities – all year round
Do you love sports activities in a spectacular mountain landscape – for example, mountain biking or skiing – and afterwards relax in an apartment where you can be completely yourself? Then Residence Diamant is the ideal place for your vacation. Spend time with your loved ones, and fully enjoy your shared experiences. Indoors, you may indulge in the familial ambiance; outdoors, you may conquer the magnificent mountain world: hiking, mountain biking, horse riding or skiing. Whatever you are looking for, we are happy to advise you. Hiking suggestions, alpine hut recommendations or bike tours – we know the best places in our alpine region. Because as your hosts, we are looking forward to fulfilling all your holiday wishes.
Enjoy your breakfast and a 5‑course dinner
in our partner hotel


Of course, your physical well-being is very important to us. The Residence Diamant has a culinary partnership with the Hotel Madonna, which is just 300 meters away (around 5 minutes' walk). An exquisite cuisine awaits you, offering you the best from the treasure trove of South Tyrolean delicacies. On the rich breakfast buffet (18 €/person) you will find regional and partly home-made products in all their culinary diversity and freshness. For dinner, you may look forward to a 5-course gourmet menu (45 €/person, Sundays gala dinner 60 €/person) with three hot and cold entrees and main courses to choose from. To ensure that you receive the best service at the Hotel Madonna, we kindly ask you to confirm your breakfast reservation the previous day and to select your dinner menu by 10 am of the same day. We hope for your understanding that for Christmas, New Year's Eve and during Carnival no table reservations are possible – otherwise, at any time!
Your pleasure vacation in South Tyrol –
Culinary delights in the holiday region Alpe di Siusi

The culinary landscape of Castelrotto/Alpe di Siusi and of South Tyrol is a true treasure trove for lovers of the traditional cuisine – a fact well known far beyond the country's borders. Emperor Franz Joseph, for example, had delivered our tasty bread all the way to Vienna. Excerpts from old recipe books are revealed every year during the "Culinary Weeks" in all three villages around the Alpe di Siusi, for example, during the Witch Magic in May or the Dumpling Days at the end of September. Taste and enjoy our exquisite cuisine – Here in South Tyrol, you'll find culinary pleasures all year round!
Would you like to visit our beautiful Castelrotto/Alpe di Siusi in South Tyrol? We look forward to welcoming you soon to our Residence Diamant!
Your Burgauner Family